Today I managed to get out of bed.
And make my train..
And turn up to class on time.
Not a bad start! Unfortunately, this week's journalism lecture turned out to be on intellectual copyright law, presented by a guest lecturer without the aid of a microphone, which I felt greatly took away what little interest I could have held for the content. I met up with Rob for lunch after that and dug into a bento box I'd been thinking about for two days. (I'm so serious). Mug joined us soon afterwards, and for an hour or two we meandered around the city, moving in and out of cafes. My hormones demanded I satisfy my sweet tooth, and yet my body couldn't keep up.. I get bloated so easily it's ridiculous.
After an intense Chinese tutorial, Juliana and I headed down Broadway and then Glebe Point Road, which became the best part of my day. I regretted not having my camera there.. We walked when the sun was setting, and it was pure magic. I couldn't not capture it, and the poor iPhone 5 camera quality certainly doesn't do it justice.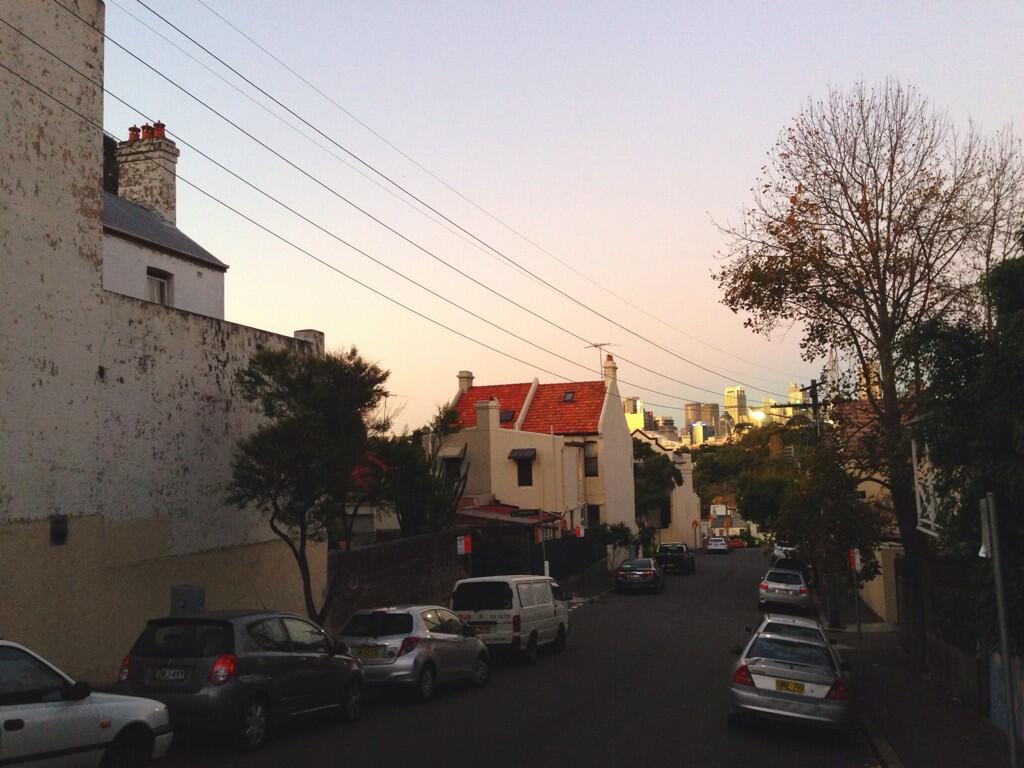 There is a certain charm about Glebe Point Road. It is exactly the kind of quaint cafe culture that sits perfectly at home beside rows upon rows of Victorian Terraces that I adore, and all Yana and I could talk about was the convenience of living here. Most of the time, though, we walked in a certain kind of comfortable silence I am starting to savour. We walked so slowly, but at times, I wanted to stop and just watch time pass. Shop owners were closing up their shops as empty restaurants started to open their doors for the evening, inviting diners inside. Residents walked past us with their dogs in tow. The day was ending for some and only just beginning for others, but life was certainly going on. The sun set so regally and so magnificently I sometimes felt surprised it was real at all.
I was distracted most of tonight.. Distracted with the slow progress of my 'journalism pursuits'. I feel so strongly drawn to my spirit and to my feelings that it's difficult for me to remain grounded. And yet my professional development is something I closely associate to success and therefore to my perception of myself. I wish I could blink my eyes and have it fall into my lap, but what's the point of that?
I'm happy. When I'm no longer here, the sun will keep setting, Glebe Point Road will exist and people will keep loving things and learning things and do things with passion. I believe in the inherent goodness of the world; I want to be part of that. I want to inspire that.
xo
P.S. Woops - forgot to mention that the reason Yana and I were walking down Broadway/GPR in the first place was to see Neel perform at Harold Park Hotel. Which was good, by the way. Afterwards, Neel, myself and a small bunch of other high school friends headed to San Churros and we gorged ourselves on sugary calories. I had to unzip my pants on the ride home. sTaYiN cLaSsY eSt 94
P.P.S. Tonight's writing style has been heavily influenced by caiti borruso, a photographer and blogger about my age from New Jersey/Brooklyn who can seriously write. Her 2013 post in particular captivated me. I wish I had the patience to organise my thoughts and write like that.. Maybe at the end of this year!