I think when I am retired
I am definitely going to listen to chilled out jazzy stuff haha :3. When I was driving home from Campbelltown tonight I listened to 102.5 (105.2?) instead of flicking through the main pop channels and found that I enjoyed it very much ^_^ #becomingprematurelyold
Had the most depressing morning ever (I don't even want to think about it). Rushed out to get Nick a $40 chocolate Easter Bunny ("$30 for you", the seller said. WOOHOO LOL Bargains, bargains everywhere) to make up for my scum-of-the-earth act (or, rather, lack of action) this morning and sped to Campbelltown without realising that it was double demerits wtf. MADE IT ANYWAY ^_^ Heh heh. Was happy to see him!! aw :) ANYWAYZ LOL I presented him with the overpriced chocolate easter bunny (IT MELTED IN THE CAR. QQQQQ I WAS WORRIED ABOUT IT MELTING AND IT DIIIDDD :'(((( AAH) - which was totally worth the thirty dollars, by the way; I discovered later that it was dark chocolate and not gonna lie I made the melted hole bigger HEH. Mmm. Watched half of the Brothers Grimm on my laptop which I decided wasn't that great of a movie after all (I think I'll finish it though..) and tried and failed to muster up the energy to go out for lunch wtf I was so sleepy. Was all good hurhur met up with Colline etc etc at Sushi Bay for deenar.. MAN I gotta get back (properly) into the clean eating game. What have I become in the last week or so argggh~
After that we went to their "Catholic Club" (LOL) to chill out/drink/gamble ahaaa. (I assure you there is nothing catholic about it. It's just a fancy RSL club except bigger since Campbelltown has too much space wtf) Yes I played a little bit of blackjack and may or may not have lost $5 when I could've won back double that :'( THIS HAPPENED LAST TIME I get so greedy haha! It's okay, at least I don't have an addiction like someone..
During the whole night I kept trying to kiss Colline ahahaha but she resisted my efforts! (One day I will get her drunk mu ha ha. It's gonna happen Brenden)
By the way all/most of the people I know from work! :) I made friends with them last year when half their group joined up for MB the same way half my group did too HAHA.
Ok I don't have much to say anymore so I will just show you photos yayayay :)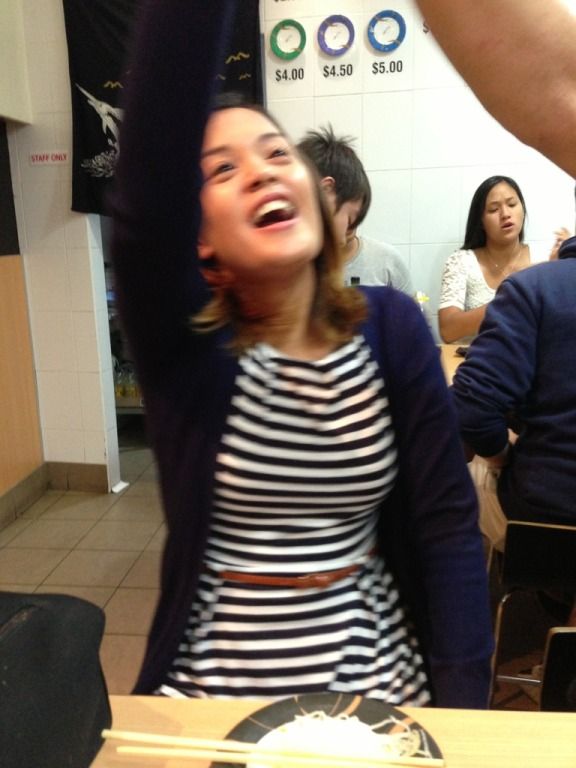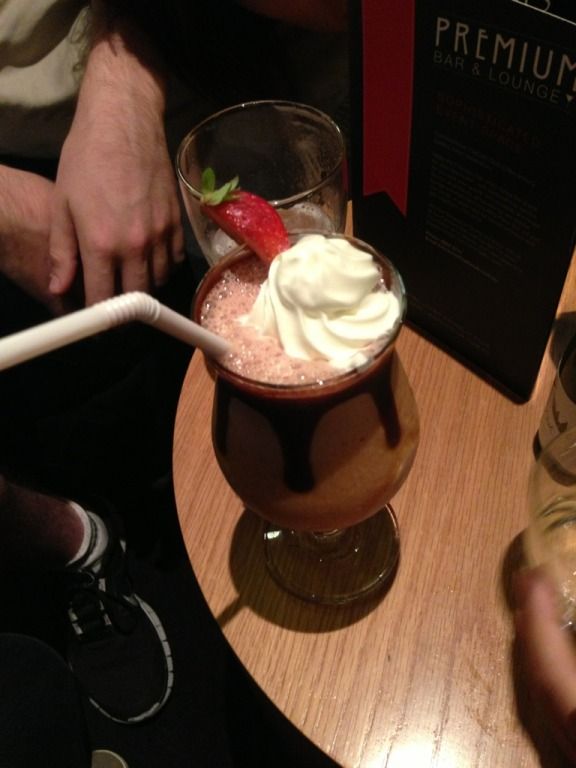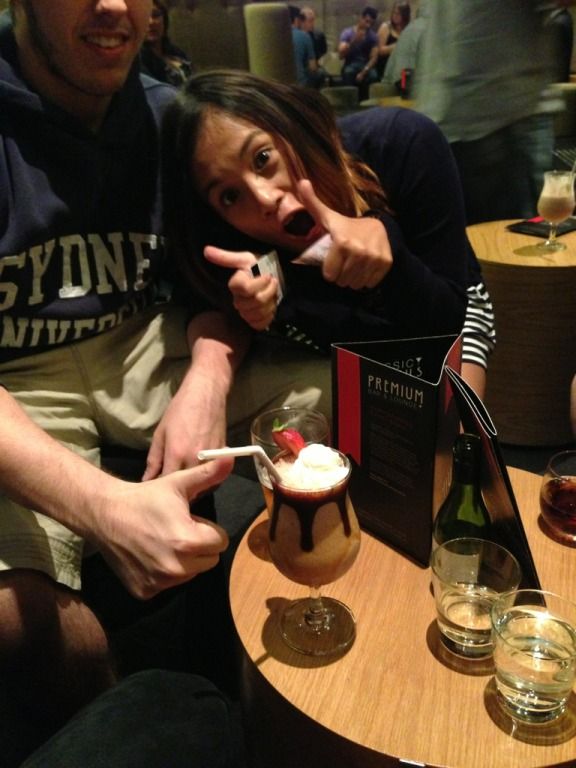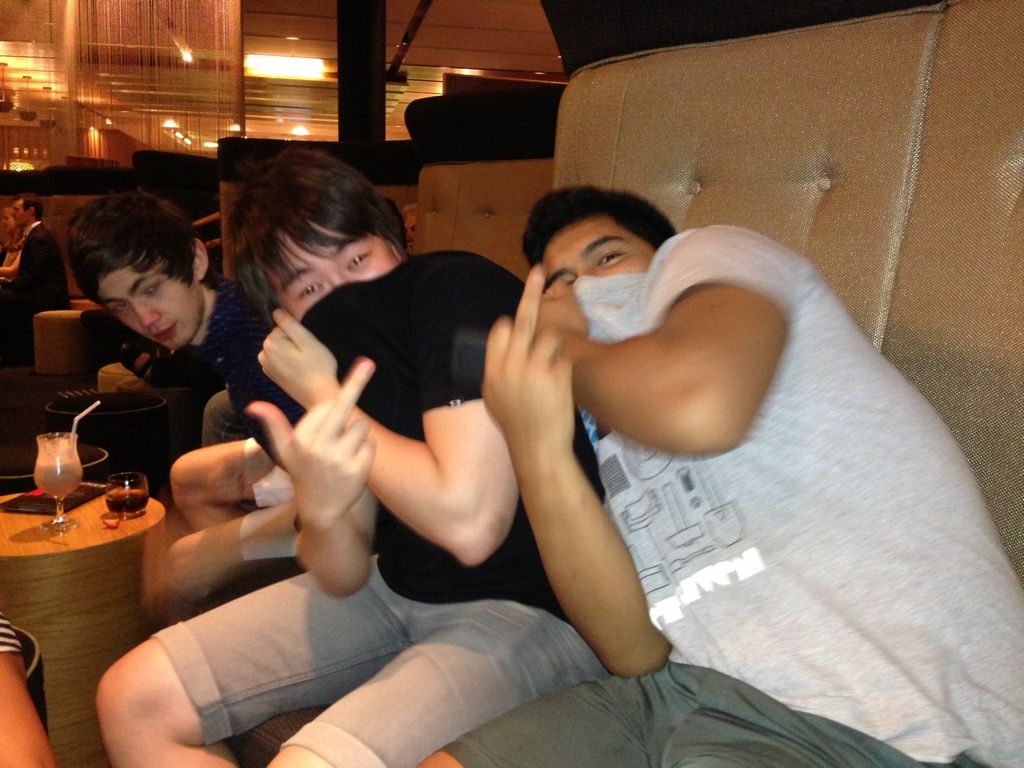 I promise they are actually normal human beings they just do this stupid esh thing for fun lOL T___T"
P.S. DOESN'T HE LOOK HAPPY TO BE WITH ME?? FFS LOL Look at me I am shoving my face into his wtf. This photo was literally prepared. I have wanted to force him to take this photo with me for a while hAHAHAH.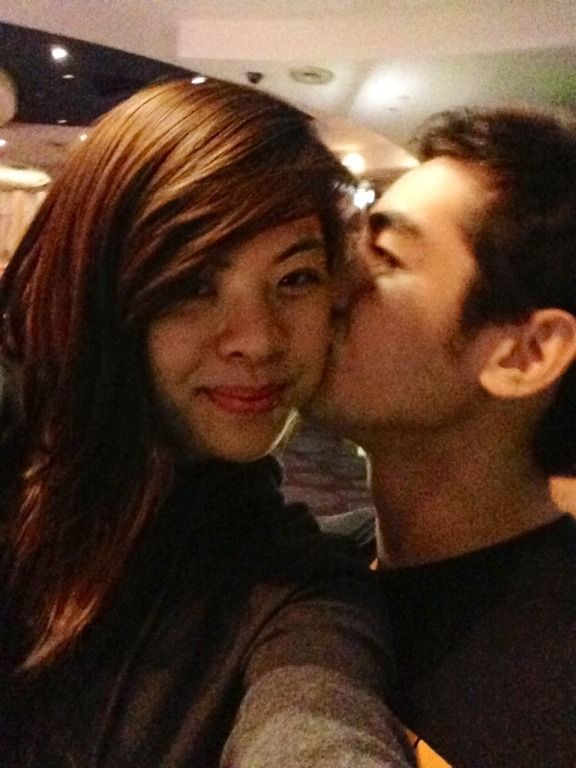 GOODNIGHT LOVERS! Much love!! May you have a blissful sleep in, and kisses all round!!!! xoxoxoxoxoxo
P.S. I watched Django with N last week and it was good - although it was very Quentin Tarantino in terms of unnecessary gore. Still worth the watch though, I think!
P.P.S. Still need to go gold class arghghghghg DO THEY REALLY SERVE YOU FOOD AND DRINKS THAT'S FRIGGIN AWESUM
P.P.S. Here are some better ones. I feel like I need to prove to the world that I'm not forcing him to be with me because SO FAR AS FAR AS THIS POST IS CONCERNED ALL PHOTOGRAPHIC EVIDENCE PROVES OTHERWISE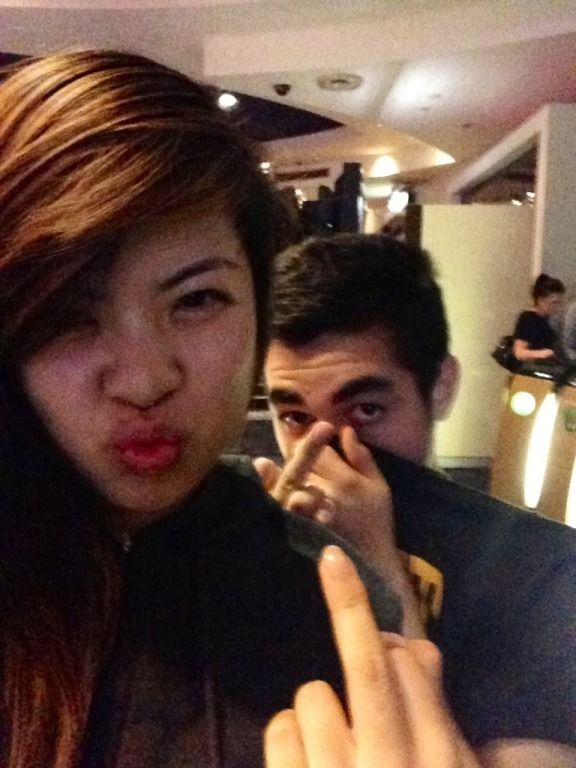 :))
Labels: dates, dinner, food, fun, hehe, music, outing, photos, smile, yay