Original plans for today:
Study/read notes/make notes
Run at 5pm
Eat healthy (a salad for lunch and vegies for dinner)
What actually happened:

Sunny just felt like coming over wtf HAHA and I had to hurriedly change from my galaxy dress lmao (explained by this tweet)
We halfheartedly watched Rush Hour 2 but we were distracted by my macbook, of course
Sunny offhandedly suggested that we go get some froyo or something...
...So I took this idea up another notch by DECIDING THAT I WOULD ILLEGALLY DRIVE MUHAHAHAHA. Ok no but seriously I needed practice so I drove and SUNNY SURVIVED AND MY CAR SURVIVED AND NO ONE GOT HURT LOL SO IT'S ALL GOOD
FIRST TIME WOWCOW FROYOING. THEY SHOVED LIKE ALL THESE FLAVOUR TESTERS AT ME AND I WANTED TO KEEP THEM ALL LOLLLLL
No exercise or healthy eating or much studying was accomplished.
As we approached Burwood, Sunny warned that there would be a tight turn into the carpark so I pulled over and we switched places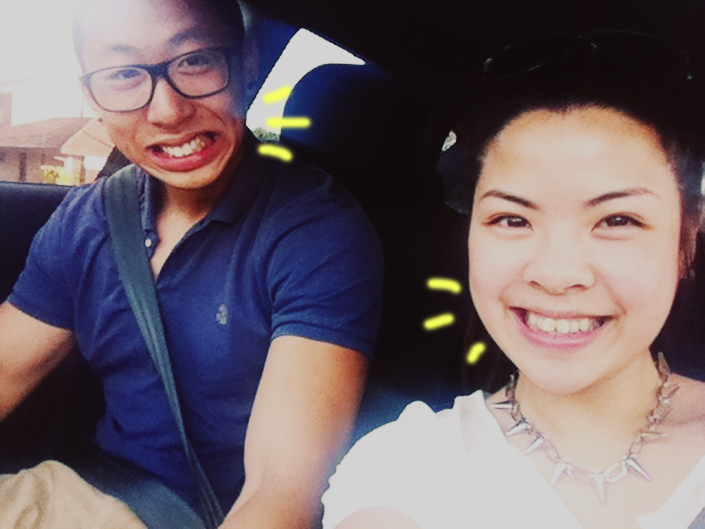 Hehehehe
Mine is the smaller one ok HAHA Omfg it was a Small but still quite a lot TT.TT" I don't understand how Q finishes Maxi sized ones...........
The prettiest picture of froyo ok + closeup of my galaxy dress that I sent to Shawn, whom I know has a thing for galaxy print ahaha! (Which is interesting actually, most guys are quite indifferent or actually dislike galaxy print. How even. It is so sexy.)
The sunset as I was driving back to Hurstville was wonderful ♥ It made me adore Australia - there was an intense bout of rain earlier this afternoon for about ten to fifteen minutes (I spent a good third of it actually just sitting on my bed and staring out the window like a derp) but another fifteen minutes later and it was blazingly sunny again. I love am in love with where I am, where I live. Such beauty is a blessing and I have to remind myself that blessings exist even when I can't see the beauty!
Hehe anyway that's about it for today! I should try do some of my readings and accomplish something today :$ heh. Have a lovely weekend pumpkins! xo
P.S. LOL what a loser
Labels: convo, driving, facebook, food, hehe, lists, mydae, photos, random, smile, weather, yay