Cute stroll at Darling Harbour at sunset. CHECK
Romantic atmosphere of outdoor restaurant along the harbour. CHECK
This has nothing to do with anything. Anna is just really cute
Gorgeous view right by the sidewalk (we moved tables). CHECK
Anna and Derpica
Lame shots with our empty plates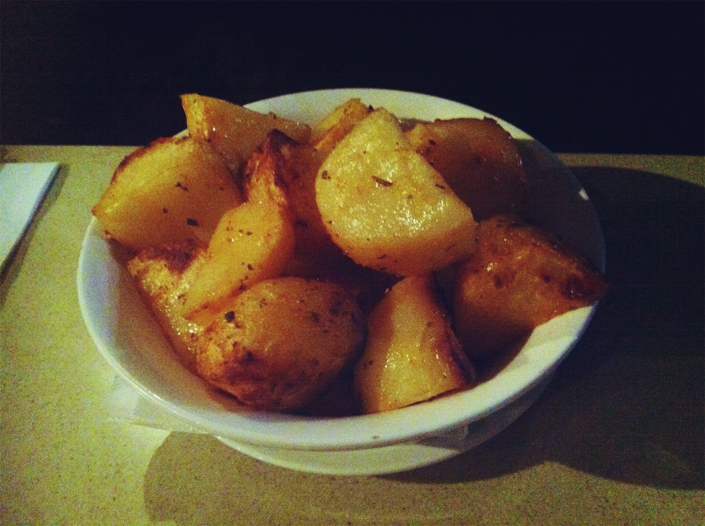 Our shared salads: A gorgeous roast potato salad and my caesar salad which was supposed to have chicken but they forgot so they gave us chicken seperately. Anna and I hacked it to pieces and it was a great sight to be hold. We were so very ladylike that night LMAO
n__n

PREPARE YOURSELVES FOR THE ULTIMATE DATE NIGHT STAPLE.
FIREWORKS WHAT EVEN
It was a good night. Anna and I had A Real Conversation, and I was very very glad of it. We searched around for places to eat for a little while and finally settled at Adria Rybar & Grill, which I definitely am adding to my list of places to eat at again in the future. The salad was delicious, as was the roast potato; and the service would have been impeccable had it not been for one waitress who at times looked a little sour to serve us, to be honest. I hate that she was less welcoming to Anna and I than she was to other couples, as though we deserved less of her effort because we were younger. The other waiters and waitresses were very very lovely, though, and it made up for it. :)
They also forgot to add chicken, and I'm not sure if it was the chef's fault or the sour waitress who wrote my order haha. They handled it not by giving me a new salad but by separately giving us a dish of chicken.. Which I was a bit 'hmmm' about but I didn't mind HAHAHA I think I was far too hungry!
Despite all that, definitely want to go back another night. (I am a little pathetic; I've compiled a list of places that I want to eat at with my future boyfriend [if such a person does indeed exist in my future wtf], and to be honest it's basically to sample like every single cute little cafe and restaurant in Sydney HAHA.) I'd love to be more of a foodie! Alas, I have not the time nor the money nor do I believe that it's appropriate at my age right now.
My holidays will be over in two weeks, and about a month after that all my friends will start theirs. I am suffering from a slight premature case of 'FOMO' already. I hope that uni still lets me have fun! At the very least, the first month or so will be pretty chill since it's all just learning :))). I've every intention to stay absolutely on top of things next semester, and I mean it. It was a nightmare last semester stressing at 5:30am in the morning for almost every assignment. I never want to do that to myself again.
I hope everyone has a lovely lovely lovely week! Much love you to all!
Labels: ct, dinner, food, iBaby, outing, photos, smile