I went on a date today ♥ . . .
Yeah I went out with Alice AHAHA! Going out with her is really fucking creepy. Because it's like going out with yourself. Like your exact self. She had to cut her hair, so did I. We went to myer to look at clothes, we pick not just the same ones, but the same fucking colours. She starts getting hungry, me too - I mention somewhere to eat, she's thinking the exact same fucking place!!! This has been happening for like more than a year now, so you'd think I'd be used to it by now but it's still bizarre.
Anyway, as you can see, my hair is a little bit fob!!! LOL I got just a trim and a fringe cut n dat but when the girl asked me if I wanted it curled or wavy I said curled and I looked extremely fob for the rest of the day omg. Especially as what I was wearing was very girly too.
AHAHA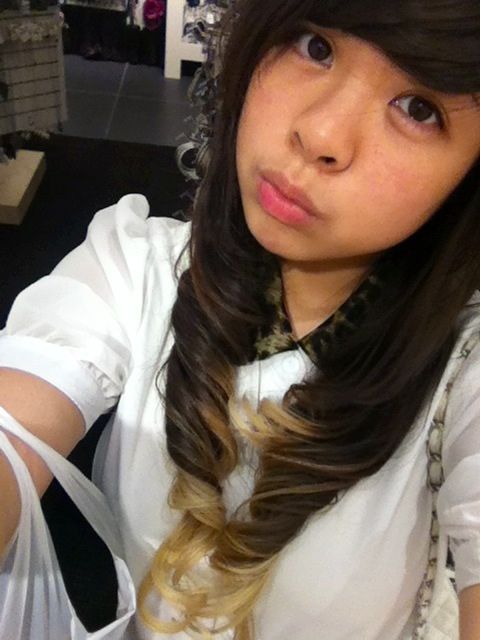 Pulling especially Asian poses to match my hair
Size S Tommy Hilfiger Polo Tshirt which is clearly too tight in the chest wtf but I ended up buying in the hopes that I'd shrink into them (lmao). PRETTY SCREWED IF I DON'T. // Alice about to annihilate scones w/ jam and cream as I watch /__\ LOL! SOOONNNNNNNNN AIYAH
NOMNOM!! (I hope Qin reads this post)
Beautiful lighting at the Coffee Club!! Fucking epic food too WHY IS THIS ONLY THE FIRST TIME I'VE BEEN THERE? Also, Alice and I have similar taste in food now too. Shared tea, Smoked Salmon salad and a Vegetarian breakfast. Legit I just feel like a skinny person with extra padding LOL falgkjhlakjgl.
Look it's John hahahaahahahahaaha fuck, check out those quads though LOL (to my future boyfriend: Love me, because I am one of those rare females who can relate when you are talking about gym shit. Actually I will probably drag you there if you aren't going already anyway.)
Also I swear to god whoever drew Superman there must have invented some of the muscles there or something because there is no way in hell that you can actually get this degree of muscle definition?!!?!?! I mean he probably has like 0.00001% body fat or something wtf I'm PRETTY SURE YOU CAN DIE FROM SOMETHING LIKE THAT.
What's with me today lOL
(Yesterday) Tried on a size 12 dress.. Too big. Tried on a size 10, it fit. Today I tried on a size
eight
gym hoodie today and what the fuck that fit too IM NOT TRYING TO BRAG, THIS LEGITIMATELY FEELS FUCKING WEIRD, LIKE I DONT FUCKING BELONG HERE OR SOMETHING LMFAOOO ;_____; #fatgirlmentality
This is for Sarah Buxton, who said she reads my blog. :$ HIGHEST COMPLIMENT EVAR. Honestly I'm telling you now, the best compliments you can give me is 1) I love/read/fantasise about your blog, 2) I love your photos, 3) You've lost weight, but THIS ONE ONLY COUNTS IF YOU HAVEN'T HAD ANYTHING TO DO WITH ME IN AGES and fark it's not like you can really tell that much anyway /__\.
Have a good night!! I have to go work out now I've been putting it off :((( LOL
P.S.
Uuhh outfit of the day? n__n
Now you know what I've been doing for the last 30 minutes. Besides blogging. ALRIGHT THIS POST HAS BEEN VAIN E-FUCKING-NOUGH SO NOW I'M GOING TO GO DO SOME MANLY SQUATS AND SWEAT (LOL DON'T YOU LOVE HOW DIFFERENT MY PERSONALITY IS TO THESE PHOTOS)
P.P.S. Scratch that manly squats statement. My ass still hurts from the leg workout yesterday.. I genuinely don't know anything I can do at home that doesn't use legs though.. OhgodwhatdoIdo
Labels: clothes, dont mind me, food, macbook, photos, random, shopping