everything
I have to watch this. I've never seen ANYTHING that reminded me more of my mother and how selfless she was and how much I loved her.
And then afterwards she explained to us that her grandma was exactly the same.. Though she often forgot other family members, she would always, always remember her (Francis), her granddaughter. Oh
man
. I was trying SO hard to hold it in but I think it affected me most because I was Cantonese and I actually understood everything about that video.. Culturally, too, not just linguistically. Chinese people are very adamantly proud about how family-oriented they are.
Anyway, on another note, Annagays liked my comment on this relatively old photo:
Holy crap. Beginning of year 9. Anyway, it really got me thinking and remembering that my body has really changed since I lost the 7 or so kilos since I remember being heaviest (one day, when I reach my goal of 50 or something, I may tell you what that heaviest weight was. But for now I'm still not ready. LOLOL) But yeah.. It's still strange for me to look in the mirror and be happier with what I see. And apparently I have changed physically enough that men from across the street fucking call out to me (seriously what the fuck. Lol probably just my overabundance of curves - I really do think I'll never aim to be stick skinny, I'm getting quite attached to my curves haha). It's just a very odd and startling feeling, to ..
not
be as phsysically unattractive as I always thought I was during high school. =/ Look at these . . . I'm not proud of it, I'm only putting them up knowing that I don't really look like this anymore -

(I'm the one on the end)



Bulging stomach. Unsuited full fringe, which I got only to cover my disgusting eyebrows. Huge thighs and huge calves =___= ..

.
.
.
.
.
.
.
.
.
.
.
.
.
.
.
.
.
.
.
.
.
.
.
.
.
.
.
.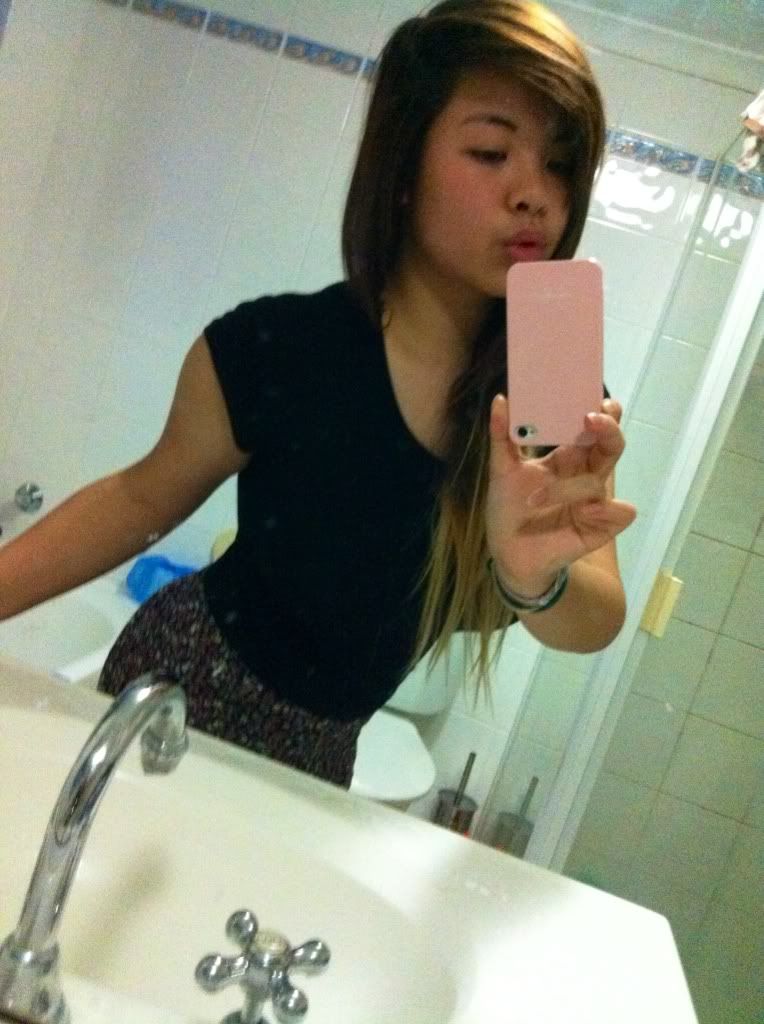 Okay you were probably expecting some fucking supermodel LOL but, alas, no. Still very curvy, still chubby, but less of the 'bulging' of the bulging stomach than before.. Legs that are more toned and I don't look as short as before (or maybe I have grown a tiny bit and not noticed. HEY IT'S ALWAYS POSSIBLE).
But anyways, looking at this is really going to help me with my weight loss. You know?? I mean, I NEVER want to go back there, I NEVER want to look like that again. With all my amazing friends making changes, like Jamie with his frenetic gymming 24/7 (if it were actually legal to stay overnight at a gym Jamie would be the first to sign up), it only encourages me even more to feel like an important part of this sexy group, to be on par with them, to be proud of myself. I want to make my friends proud to call me their friend.
ANYWAY. So much sappiness in my posts lately AHAHAHA. I still have to finish this annotation! I don't want to make a trip to uni on Friday just to hand it in so I'll do it by tonight! Luckily it's only 500 words in total fuck yeahhhhh. GOODNIGHT! ♥
Labels: epic, exercise, photos, smile, thoughts, video, weightloss