Day 18 — The person that you wish you could be
Oh, she's just like me, but flawless. She's skinny, she has perfectly gorgeous pale baby-white skin, and naturally light brown hair (pfft HAHA now I'm just dreaming). She has smaller boobs FO SHO. She doesn't always get the best grades, never a fully consistent 100% every single test sorta girl, but she picks things up really quickly and is shupah shmart. She's a little more introverted, and knows exactly what she wants and where she wants to be and how to get there.. While still having a lotttttt of fun in between. She has a perfectly neat room that's still cozy and has a 'me' feel.. And she looks exactly the same in her photos and in real life.
She's kinder. She's not mean to her parents. She's more insightful.. Less shallow. She has natural grace, natural talent.. She has a faster metabolism. Not all her wishes come true, but she likes it like that - it gives her something to work for.
She's brilliant, and the only trouble she ever gets into is that she's too awesome for some to handle (lol jk). She's taller, she's seen more movies and read more books and listened to more kinds of music. I don't know what else to say. She's like me, but better. She's already the person that I wanna be.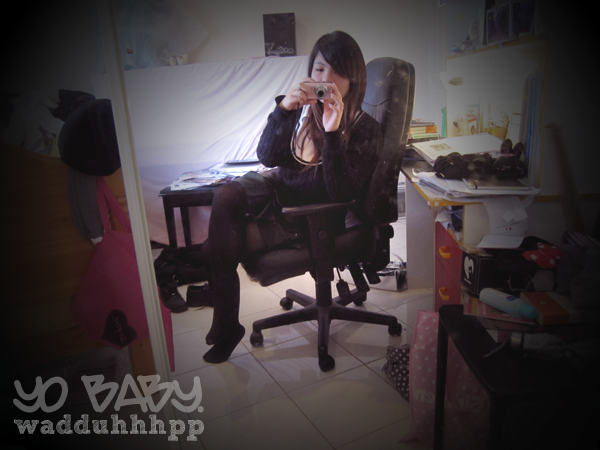 So this is what I do instead of studying. Yeesh! Check out that durrty mirror. LOL. Okay, all sarcastic quips aside, I need to get my fat ass back to work. And stop watching this - wtf??? Random mind blank - ADAM SANDLERS. YES -_____- ARGH. LOL. That was so weird. Anyway, that movie where he's suddenly inherited millions of dollars is on TV and it's good 8). I REALLY NEED TO DO STUDY FOR JOHN'S.. HE'S GOING TO KICK - MY - ASS.
Bye! <3
Labels: 30daychallenge, photos, random