Ok, for you ignorant Taken virgins, (hahahaha.) Taken is pretty much about a guy who's a bodyguard/"preventer" who's given up his job pretty much just to spend more time with his daughter, Kim, who lives with her mum and her fucking mega-rich new husband. And the outline of it is pretty much Kim and her friend go to Paris for a holiday and get taken away by like, these women trafficking Albanian mafia people because her dumbshit blonde slutty friend decides it'll be smart to talk to a complete stranger and share a cab. And the entire movie just leaves you hanging off the edge of your seat because it's just that fucking exciting and thrilling, and the plot is plausible and for a good intent, although he, you know, totally annihilates a massive gang while he's at it, but it's fucking awesome.
There's also the whole daughter/father dynamic, so if you don't have good relations with your father (since I am assuming I don't need to say "daughter" to my readers :| oh god) I don't know whether or not to suggest you watch this movie, but even if your father is in like fricken prison or whatever for being a serial killer, watch this shit, it has the best fucking - JUST WATCH IT ARRRRGH.
Kim, the daughter, on a phonecall with her father. She's taking instructions from her father who tells her to leave the phone under the bed and shout out all the physical appearances etc. so that he can track her abductor down. TALK ABOUT MULAFUCKING LIFE SKILLZ!!!!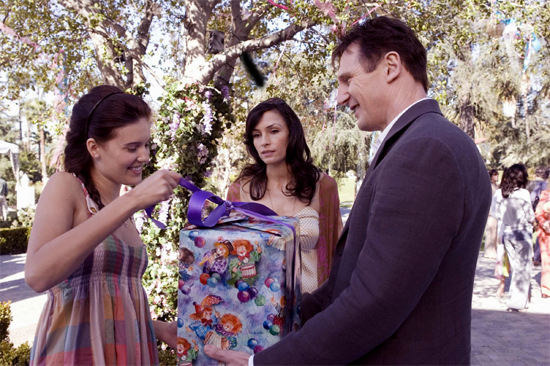 It's Kim's birthday.. He's giving her a karaoke set, because he knows she loves singing. Wow my mum just burped three times in succession. Anyway, he bought her it and she was all thankful and grateful, and then Stuart - ex-wife's husband - comes out and presents her a fucking horse, a live motherfucking quadruped, and obviously she runs and starts riding that shit like there's no tomorrow and he just ends up standing there alone kind of all ._. SIGH. ‹/3
Granted, there was too much killing/KOing etc etc etc, but you know. No movie is flawless. Watch it watch it watch it. This shit deserves a 9/10.
♥
Labels: epic, movie, omfg, omgd